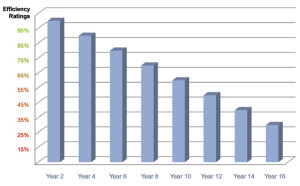 Efficiency is one of the major factors that determine the quality of an air conditioner. It is advisable to always strive to maintain it a high level to derive the full benefits from it. Here are some tips on how you can ensure that its efficiency remains at a high level.
Filter Replacements: Just like any other electrical spare part, filters need to be regularly replaced with new ones. This is because they usually wear out after some time especially if the system works for long hours continuously. More often than not, if the filters are faulty, the system will over heat since air circulation is not optimal. Hence, it is recommended to always check the condition of the filters. A monthly check up will help you identify any faults on the filters in time before the air conditioner develops further complications.
Thermostat: The thermostat is usually connected to batteries, if the charge is low, the thermostat will fail to function well. That is, it will be unable to regulate the temperature. Hence, in order to safeguard efficiency of the air conditioner, it is recommendable to regularly change the thermostat batteries by replacing them with new ones.
Air Ducts: Air ducts work hand in hand with the filters in a bid to foster correct air circulation. Just like filters, they can easily be clogged if the system because dust or debris accumulate on it. It is recommendable to regularly clean the air ducts to protect them from blockage or clogging. A smooth brush and an appropriate detergent will help you clean them up. You can decide to replace them with new ones if they are faulty or worn out.
Cord: Virtually all air conditioners have an electrical cord that helps to connect it to the main power supply through the sockets. This cord may tire up if used wrongly, for example, you should always ensure that you do not stretch it when fixing it to the socket. Replace it with a new one immediately you realize that it worn out to avoid accidents that could arise from electric faults.
Taking care of your air conditioner is one of the sure ways to cool your air more efficiently.